It's not easy looking for PTE classes near you. There are so many available, and all of them have their own strengths and weaknesses. Some people find it difficult to choose because they're unsure what exactly they're looking for in the first place! As a student, you must understand that there is always something out there that will work best for you. This blog post addresses various methods for finding what you're looking for when choosing a PTE class.
What should I know before I join any PTE class near me?
Before you do your research on "the best PTE class near me", it's important to know what kind of classes or coaching will work best for you. I have been helping students to prepare for PTE for more than five years now. I've learned over time that there are some key things you should think of before selecting a class or looking for one to prepare for your test.
Can I Score 79 in PTE Easily?
If you're wondering "which is the best PTE center near me?", it's important to keep a few things in mind. The first and most obvious question is: "Can I score 79+ on PTE?" if that is your score target.
But if you are looking to get 50 but sitting in a class where most people just want 79, most of the things that are discussed might go over your head. The same is true when the scenario is just the opposite.
When you are looking for a school, check if they keep all the students in the same class or if they put students with different score targets into different classes or at least in different groups. Remember, you just need the right level of coaching for your desired PTE score, nothing more, nothing less.
At Roman PTE, we provide support to students based on their score requirements which means you will get what you are looking for.
Which is the best-reviewed PTE institute?
Keep in mind to look for the centers which have been highly recommended by past students. All institutes will try to convince you of their quality, but speaking with current and former students is the best way to judge how good they are.
If you know someone who went to a school you're interested in, speak to him and ask him questions about the school. In certain situations, you may want to choose a class recommended by a friend to feel more at ease. But keep in mind that choosing classes based solely on one person's opinion has its drawbacks. You are not obligated to go anywhere just because someone else is. However, if you know someone who has been there before and can provide you with information about the location based on their experience, you can save both time and money.
If you're looking for a highly competent PTE class in Melbourne, look no further than our programs, which have been awarded five stars by 300 satisfied students.
Study & Practice Materials for PTE Preparation
It is critical to find quality knowledge and practice materials from reputable sources in order to develop the skills required for success in PTE. The first explanation for this is that it allows you to anticipate the types of questions that will be asked on the exam and plan to answer them. At the same time, questions in the PTE appear to repeat more often than in other related exams. As a result, when searching for the best PTE coaching center near you, you must ensure that you can obtain high-quality materials for study and practice.
Therefore, if you have a good idea of the topic that will appear on the exam or are familiar with the same question as one from an upcoming exam, your chances of getting a high score are significantly greater.
Furthermore, you should also be able to revise these materials as many times as you like. If you can, get a copy of the study materials that are discussed during the class so they're available for review when needed.
At Roman PTE, we believe that it's important for you to find the perfect program for your needs. That's why we offer more than 7000 free practice questions. You can start your preparation with these materials and upgrade at any time if you wish.
Free PTE Mock Tests
One of the best ways to assess the level required for a PTE test is by taking a mock test. Mock tests help you get familiar with the exam structure, learn time management skills, make you used to examination stress, and more importantly, they allow you to gauge your progress before the actual test.
Instituts usually conduct mock tests, and it may be wise to assess whether the institute you're considering provides these services. You should also get scorecards with feedback that identify the sections and question types you need to focus on if you want to achieve your desired score.
When you do any of our mock tests, not only we tell you about your score, we also provide you with feedback. If you want you can discuss this feedback with one of the expert tutors as well.
PTE Online Coaching
Another crucial factor to consider is the availability of online access. Many of you are students or working somewhere else, so it may not be practical for you to carry the practice questions or books with you all the time. However, you always carry your phone with you. If your institute provides you with practice or study materials that you can access anywhere and anytime, including on your smartphone, it will allow you to prepare yourself more consistently and rigorously.
Therefore, make sure that the PTE coaching center provides you with physical materials as well as online access. This will make it easier for you to get a 90 in PTE.
When you are enrolled in any of the PTE courses at ROMAN PTE, you get unlimited access to our online platform. You can not only watch the classes live but also watch the class recordings as many times as you wish. Further, you can practice exam questions, do free PTE mock tests, get scores and discuss your performance with tutors.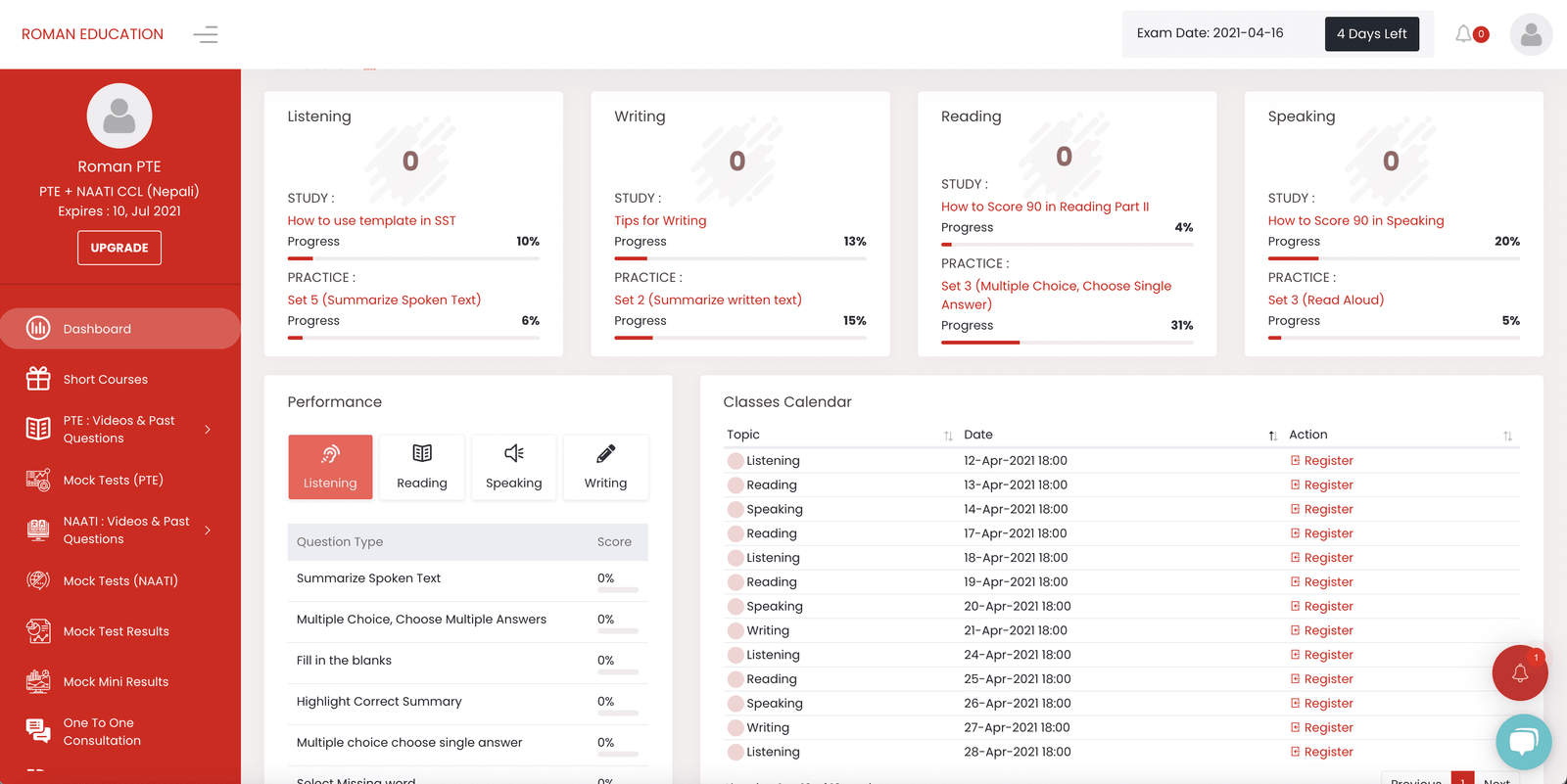 Affordable PTE Coaching Classes by Roman PTE
For that perfect balance of professional advice and live interaction, you can register for our PTE Classes at Roman PTE. With our comprehensive test preparation course, you will feel fully prepared to take the PTE exam with confidence. Our classes contain everything a student needs in order to succeed — from in-depth lectures on each section's topics (Reading and Writing Skills, Speaking Tips, Listening Strategies), practice sessions consisting of guided activities and quizzes going over words or phrases used in combinations as well as practice questions and mini-tests based on past papers. We even offer mock exams so students know what they can expect during their real test day!
Can I score 79 in PTE if I join your institute?
Roman PTE is a full-service test preparation company that focuses on getting you the best possible score in your PTE exam. We provide one of the most complete packages for preparing for and taking the test, with everything from extensive practice tests to expert instructors available online or face-to-face. With over 20000 students prepared so far, we have become one of the leading providers of PTE preparation services worldwide.
Our students have also scored 90/90 in all the sections of PTE.
We make sure that you get your score regardless of your target. We customize our courses to meet your needs in every possible way.
How many days does it take to prepare for PTE?
Depending on how fast you learn, you may need 2-10 weeks to get ready for the actual PTE test. But the preparation time varies depending on your level of English proficiency and how much time you have to study in a day.
Preparing for PTE can be a tough, time-consuming process if you do not have a proper strategy. It is recommended to start preparing for the exam as soon as possible. You can start by getting an idea of what the test is about and then familiarizing yourself with the PTE format. Learning about the different question types will help you during the exam. You should also watch all the PTE tutorial videos, prepare notes after PTE study, highlight important points about PTE exams, and memorize difficult vocabulary words. It will also be a good idea to practice questions and do mock tests regularly.
Is it easy to get 50, 65, or 80 in PTE?
You might be wondering if it's easy to get 50, 65, and 80 in PTE. It's not that easy but it is not impossible as well.
At first, you need to know your level of English and how much time you are willing to devote to the preparation from day 1. If you are aiming for a really high score like 80, then start preparing from day 1 because preparation is all about time management and willpower.
The first step is to identify your weaknesses and strengths. A lot of people try to do every single question detail, but this is not the best way! You should instead focus on your important sections so that you can spend more time on these sections and get a full score from them. Which questions are important depends on your score target. So, you should sit down with your tutors and discuss your situation. They will help you craft the most appropriate strategy for your situation.
Another great way of preparing that really helps is taking practice tests again and again, which made it like I was going through the actual test all over again. Rather than only practicing questions, try to do some PTE mock tests. This will allow you to practice answering questions in the limited time allotted so that you know what to expect on test day with the real PTE exam. Just remember, it is not enough just to read and answer questions — these practice tests should be used as tools for your own personal growth!
Can you help me to prepare for PTE in 7 days or 15 days or 4 weeks?
We have "PTE Study Plans" which will help you get ready for the test in the time you want. You just have to make sure that you spend more time every day if you want to get your score quickly.
How can I get support from tutors for my PTE preparation?
You will get feedback on your PTE exam score in our PTE coaching class. You can even take a practice test to see how you would fare. Following that, you will meet with your mentor to discuss your results in the PTE mock exam. They will also tell you which topics you need to learn more in order to do better when you take the actual PTE exam in the real PTE test center.
Do you offer any online PTE preparation classes?
Students who are preparing for the PTE exam face a lot of problems. They have to attend offline classes, which is not always possible due to their work and family commitments.
To solve this problem we offer online coaching with the same quality as our offline classes. We record all our live sessions so that you can review them whenever you want without missing out on any important information or losing time in traffic jams. Our 7,000+ past exam questions will help you prepare better than ever before!
The package includes live coaching sessions, recorded videos from previous classes, 7000+ past examination questions with answers and explanations (that's more than enough material!), mini-tests for speaking, reading writing, and listening skills, and consultations with tutors if needed.
Conclusion
The secret to a successful PTE score is finding the right balance of coaching for your desired level. We offer classes in which students can improve their English skills and learn how to take the test from our expert teachers. Our preparation courses are designed with you in mind so that we'll be able to provide you with everything you need before taking the exam. Whether you're looking for intensive one-on-one tutoring or prefer group sessions, we have something available just for you! If this sounds like what's best for your needs, don't hesitate to get in touch with us today!